Everyone always recommends taking fish oils for the Omega 3 fatty acids for various reasons, such as: brain, heart, eye health, depression, arthritis, and other inflammation/pain conditions. Omega 3s are essential fatty acids (EPA and DHA) that cannot be produced in the body. This is why it is often advised to take a supplement, especially for those who do not consume fish.
The Omega 3s components that are needed by the body are DHA and EPA. DHA is important for brain and eye health while EPA is great for any inflammatory conditions, such as arthritis, or post-injury. High EPA formulations are great for pain management.
Research supports that high EPA fish oil supplements may be helpful to reduce inflammation which can directly reduce pain. This is especially noted in cases of arthritis as well as pain originating from a spinal disc. (See research articles below.)
Omega 3s are also found in plant-based foods such as flax seeds and chia seeds in the ALA form. ALA cannot be used in the body and must be converted to EPA and DHA. This means you may not be getting enough EPA and DHA if you are only consuming ALA.
Vegan & Plant Based Omega 3s
Vegans and vegetarians have a much harder time getting in the necessary amounts of DHA and EPA since these are not typically found in vegetarian or vegan food sources. However, many more companies are able to get DHA and EPA from algae.
Not only is this a vegan/plant-based source of DHA and EPA, but it can also reduce the strain on the environment due to the fishing industry.
Fish oils can contain many chemicals, heavy metals, and toxins that can be found in our oceans, and subsequently in fish.
There are some really good vegan/vegetarian sources of these essential fatty acids. My favourite one is the NutraVege (see image below) by Nutrasea Canada (Ascenta). Not only does it taste great, but there is no fishy taste at all because it doesn't come from fish! There is also an added benefit of taking an algal oil vs fish oil. The risk of contaminants such as toxins or heavy metals being present in algal oil is low.
If you would like to buy this product, you can do so via my dispensary at Fullscript: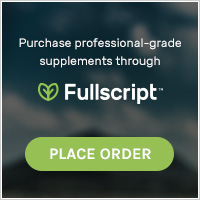 PMID: 16531187
PMID: 26925896
Disclaimer: This post was not sponsored and is not an ad. All products were purchased with my own money. Any products listed are personal favourites. This is not to replace any medical advice. Please see Disclaimer post.